Ready to track ad conversions for Facebook but don't know where to start?
You've come to the right place. Civil Pixels can track all your important events for one or multiple pixels. You can see a list of all the events and event data our Facebook integration provides in our Facebook pixel events article.
Follow this guide once for a single pixel or just go through the same process again for additional pixels.
Step 1: Start the integration setup
We'll start off nice and easy. Head over to the premade script library where we list all the integrations you can use.
To get there, open up Civil Pixels from your Shopify app page. This brings you to the Civil Pixels dashboard. You'll see a nice big "Add New" button in the Premade Scripts section.
Pick the Facebook Pixel card to start the installation.
Step 2: Enter your Facebook Pixel ID
Now for the hard part (I promise it's not too hard). The integration setup will prompt you to enter your Facebook Pixel ID.
We'll need to create a tracking pixel in Facebook and copy the ID that Facebook provides.
Head over to your Facebook Events Manager.
If you have a Facebook Pixel already
Under the pixel's title, look for something that looks like "Pixel ID: 123456789101112". Copy the numbers only and paste them into Civil Pixels, then move on to step 3!
If you have no pixels
In the top right area of the page, you'll see a button labeled "Add Data Source." Click the button to activate a dropdown menu and select "Facebook Pixel."
This will bring up a popup asking you to name your pixel. Give it a name and click "Create" (Highlighted in the picture below.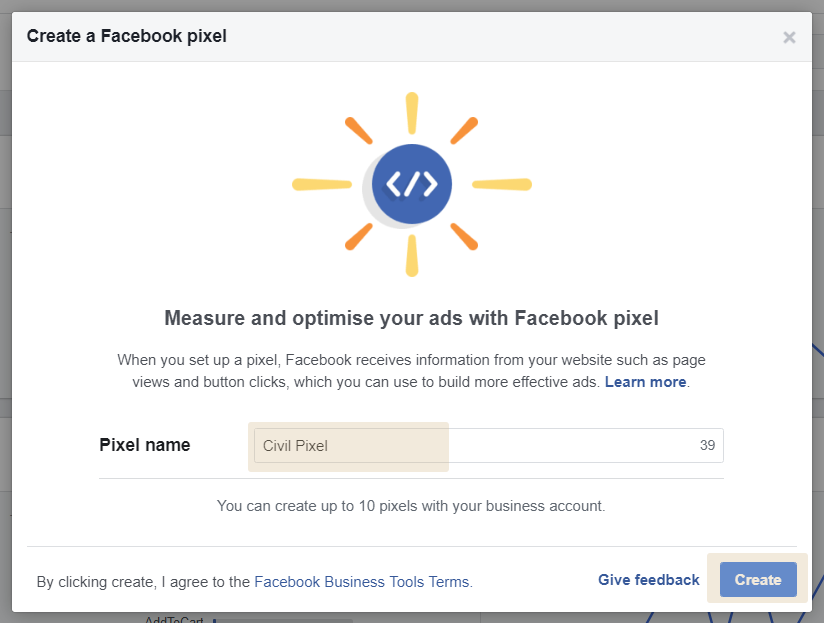 When you're redirected to a new page, you'll see the following popup. Don't select any options. Close it. Hit the X on the top right as highlighted below.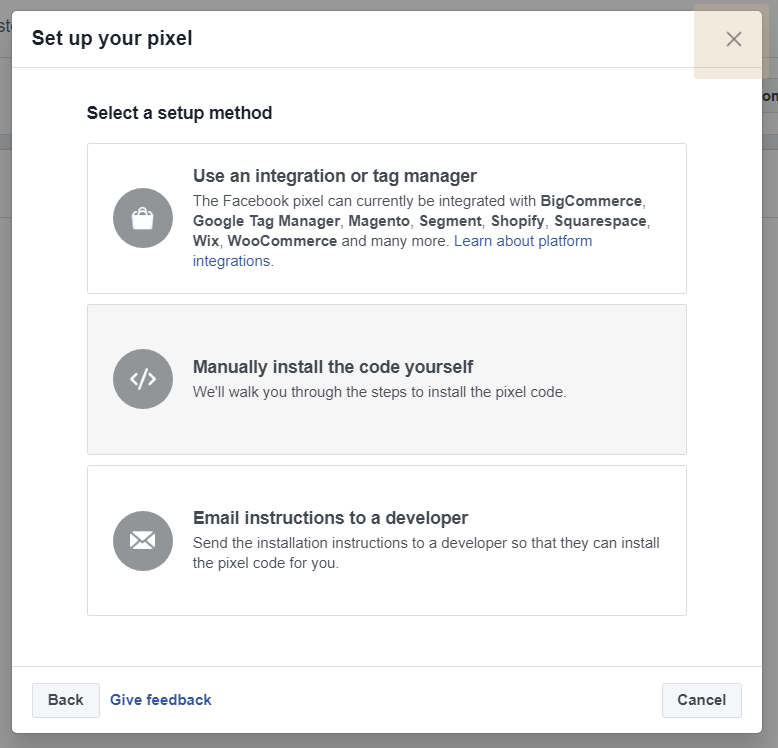 This will reveal the page below. Under your pixel's title, you'll see a series of numbers labeled Pixel ID. It looks like this: "Pixel ID: 123456789101112".
Copy the numbers only and paste them in Civil Pixels.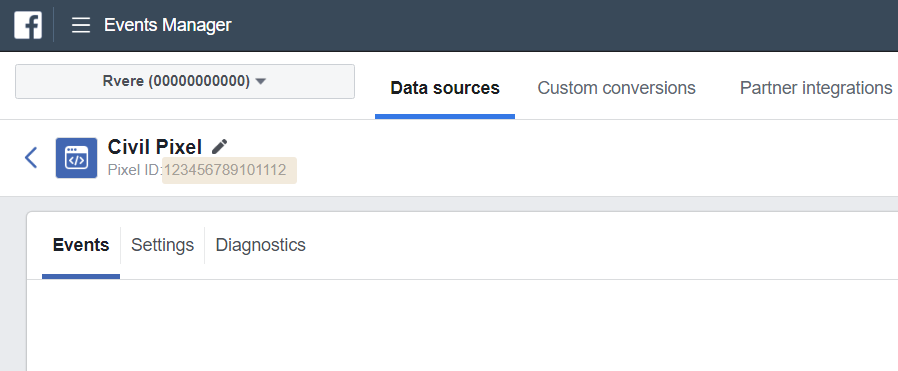 Step 3: Pick your Options
Alright, now all we have to do is pick what we want to track. I'd recommend leaving all of them checked, but feel free to remove events that are not important and that you won't want to retarget with.
Step 4: Hit the "Install" button
At the bottom of the page, you'll find a button labeled "Install."
Click it and your pixel is ready for you to use!
Next steps
Making sure it works
If you'd like to make sure the pixel is working, Facebook has made a Chrome extension to help. The Facebook Pixel Helper will check your pixels for you as you browse your site. Just make sure any ad blocking extensions you have are turned off (they block trackers like the Facebook pixel).
Changing things up
If you want to configure your options or customize the tracking script after installation, you can do that easily! Head over to the Civil Pixels homepage from your Shopify apps page.
Under the "Premade Scripts" section, click on the Facebook Pixel card.
You'll be brought to a summary page for your Pixel. Here, you'll find the scripts that make up your Facebook Pixel. Each script represents one conversion event or the base code. To toggle a certain event, just enable or disable the corresponding script!
You can also edit each script if you want to send different parameters to Facebook. Just click on the script and you can edit the underlying code for it.
Using the Data
Your Facebook conversion pixel provides data for seeing how your ads perform and for retargeting visitors on Facebook.
Here's how to view your Facebook Pixel Conversions, and
Here's how to use your Facebook Pixel for retargeting 
Further Questions
Need more help? Get in touch – email support@civilpixels.com and we'll get back to you ASAP.